We rely on voluntary donations to fund our vital work providing compassionate and practical help to people in poverty.
Regular gifts
You don't have to do something big to have a life changing impact. By making a regular donation you will be making a real difference.
Regular gifts help us plan for the future and ensure that money is available when it is needed most. These gifts can help us introduce projects, designed to develop our services so we can help people out of crisis faster.
Building upon our work – both now and in the future – is essential to helping people in crisis getting back on track, and we can't do this without your help.
To set up a regular donation simply click below.
One off gifts
Reaching out for help when you are in crisis can be a scary and overwhelming prospect. That is why our foodbank offers so much more than a place to collect emergency food. Our volunteers give everyone who walks through our door a warm welcome. They take the time to sit down and talk through clients needs in a safe environment, making sure that people leave with not just food, but also an action plan.
Every donation we receive helps transform lives and enables us to continue providing support and guidance to people in crisis.
If you would like to help support us please donate.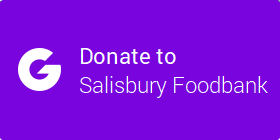 Cheques
Please make cheques payable to "Salisbury Foodbank" and Send to:
The Treasurer of Salisbury Foodbank
Unit 6b Ashfield Trading Estate
Salisbury, Wiltshire. SP2 7HL
Standing orders
Gift Aid it.. and we receive an extra 25p per £1
Salisbury Foodbank Gift Aid Form
Legacy
In 1997 Betty Trussell's legacy founded The Trussell Trust. Today her gift is still transforming lives.
Leaving a legacy is a wonderful way to carry on supporting causes that matter to you long after your lifetime. They ensure the causes you care about most can continue to make a difference, upholding the values you were passionate about throughout your life.
By leaving a gift in your Will you will help our life-changing work, fighting hunger and poverty to continue for generations to come.